SkyPrivate: Sell Adult Skype Shows (Full Review)
Making money from the comfort and privacy of your own home might be something that sounds very lucrative for you right now. And it absolutely can be. More and more it's becoming apparent that diversifying your income streams is so important. So, if you're wanting to make a little cash or move it into a full-time job SkyPrivate might be for you. The main reason SkyPrivate stands out is that it's got a lot of the perks of camming without too much of the publicity. If this sounds like something you might be into continue reading for my entire breakdown of this site that changes the way you might look at being a cam girl. I'm getting into the good, the bad and the ugly 
How It Works: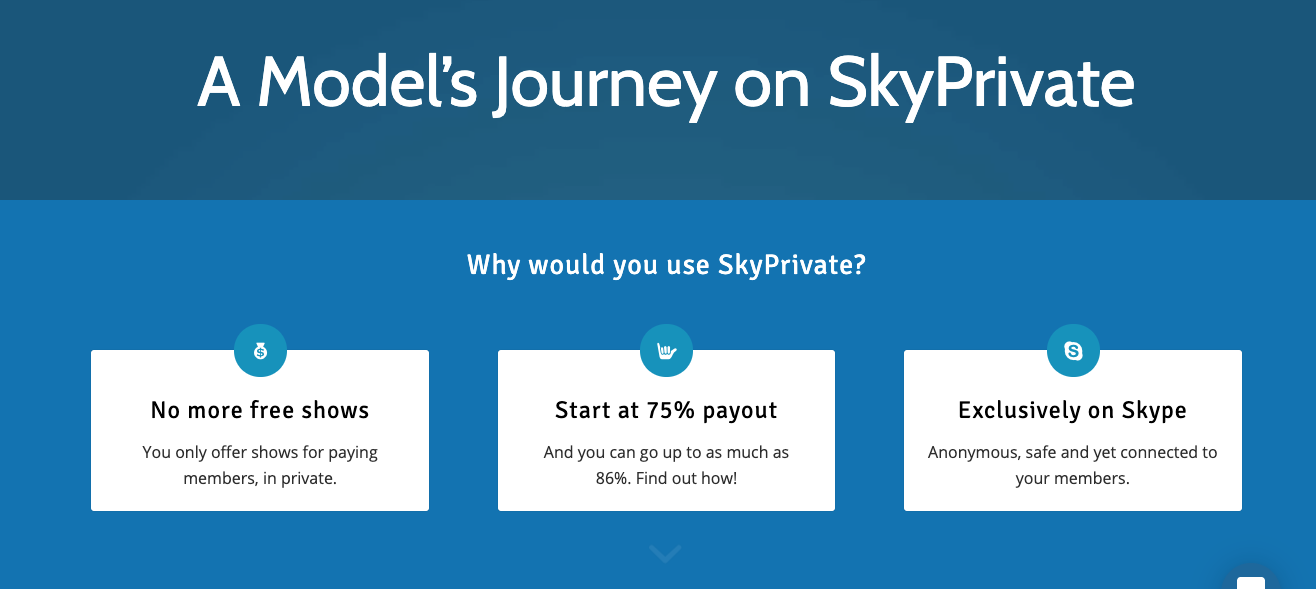 SkyPrivate is pretty unique when it comes to the camming profession. You don't need any fancy technology to get started. Feel free to read my guide to becoming a camgirl for a more in depth look into what it takes to really kill it in the camming world.  
The main premise of SkyPrivate is to connect models directly with members. You don't need to offer free shows or really put yourself out there for thousands to see. With SkyPrivate your profile is all you really have that's public, if you want it to be. Your profile can have some images of you, an enticing little video, and a little bit about yourself.  
From there you just sit back and wait for your Skype to ring! It's honestly scary how easy it is to make money from playing around in your panties.  
Skyprivate members pay by the minute and once your session is complete money goes into your account and you sit back and wait for another call to come in. You can take as many calls you want whenever you want. While there is always a little risk when it comes to camming in terms of people finding you SkyPrivate for the most part helps ensure your shows are a little more one on one than other camming sites where you are running a room.  
Getting Started: 
Joining SkyPrivate is honestly one of the easier platforms to join. There are a few reasons why it's not my first choice, I'll explain more below, but I will say it's extremely easy to get started with.  
Step 1: Register for an account
Fill in the sites step by step instructions with some basic information about yourself. You will also need to create a Skype account if you don't have on already. I recommend creating one just for this because it helps me keep my life a little more separate. Can you imagine answering a Skype call from your grandma while wearing spicy lingerie? I would DIE.  
Step 2: Get Verified
You're going to encounter a similar verification process whenever you join any camming site. All of these sites need to make sure you're not a minor and are set up to receive payments in the correct way. You will need a driver's license photo or passport photo front and back, a photo of you holding the document over your head, and a utility bill with your name on it and a recent date. I'm really not sure why they need that but it's something they request.  
Step 3: Confirm Your Account and Download the Plugin
You will get an email confirming your account. This email will also have a download for a plugin that will record your hours and your call log. This is how the payment structure works. Once you have completed a call this plugin will let you know how long it lasted and with whom.  
Step 4: Set Up Your Profile
One this I really like about SkyPrivate is that you don't have to have a public profile but it does help. I'm not really sure how people would select to chat with you if your profile was not public but it is an option. Okay honestly, I think setting up your profile is one of the more fun parts! This is where you can place all your cute pictures, help your fans learn about you, mention if your shows are solo, with a partner, fetish specific, etc etc.  
There are a few things I think are worth pointing out when setting up your profile. You do get to choose a banner image or video. I highly recommend a video! After all that's what men are paying to see from you at the end of the day. Make it cute and sexy.  
The next thing I think is important is that you make a robust description section. You want to cover every single thing you do and are willing to do in a show. Having a nice bio about yourself helps men get excited about who you are. Listing every costume you have and show you're able to put on is exactly what will make someone select you!  
The final thing that can help you get chosen over other women is having a ton of videos and pictures. Seriously this site lets you upload tens of videos. So do so! The more you have to get guys turned on by you the more they will choose you. You are allowed nudity on your profile but that is up to you.  
Step 5: Receive Calls
Now sit back and wait for a call to come in. When you sign up you will get a referral code that you can use to send to people you know personally. This can make them your first customers! If you don't know anyone yet that's not a problem. Your phone will ring it just might take a little while.  You don't want to answer the call right away. Wait for a white box to pop up to make sure the caller has enough money in their account to fund a show.  Once you've done that click the call and get to it.  
Step 6: Put on Your Show
Have fun and put on whatever show you are comfortable with. Make sure your rate is what you want it to be before you get started. You can tell what rate you are receiving in the plugin. You can adjust the pricing in the plugin. Charge more for everything extra they want but make sure that you make your price adjustments clear in your profile.   
Step 7: Get Paid
Once your show is done you just hang up your call. You will get a little summary of your call and an email. In the email you will get a summary of you call, how much money you made and a chance to leave feedback. The person you had your call with will be able to leave feedback for you as well. You will also get the chance to rate each other 1-5.  
Let's Talk Payment!
Getting paid is the main reason we do what we do. The interesting thing about SkyPrivate is that in extremely international. You can receive payment in a variety of ways from BitCoin to directly into your account. Talk about progressive. Most people I know just choose get their money directly to their account which is what I would do and is recommended as the choice for the US. You do have to have at least $40 in your earnings to pull money out.  
I did want to discuss rates for a little bit. You are able to set your own rate on SkyPrivate but most girls are in the $1-$2 per minute range. You can list price increases for specialty shows, as you should! Make sure to apply added rates for the extra things.  
Some Pros & Cons: 
Pros:  
Easy to use in the US or internationally

 

There is a great stream of traffic right out the gate. 

 

Private profiles are possible

 
You can charge your own rates 

 

One on one calls. You don't have to put on a large show for a large group of strangers.

 
Cons:  
The rate per minute is lower than most other sites so you will make less money

 
The plugin can be glitchy. I've heard some reports that girls have ended shows and had it not record their minutes at all! They do have a good support contact line so you can reach out the them there if that happens. 

 

They are headquartered in Russia and many of the Russian girls don't charge very much so this sets the expectation for low rates pretty high. 

 
Final Findings:
SkyPrivate is great site girls that are looking for a more private camming experience. The site is easy to use and well laid out. The rates are a little low so it might not be a great job for full-time work but I think it a great added bonus to camming on other sites. I would recommend this to a girl that's getting started and wants to see if camming is something they enjoy before putting on public live shows. If you're curious give it a try. I'd love to know how you enjoy it.